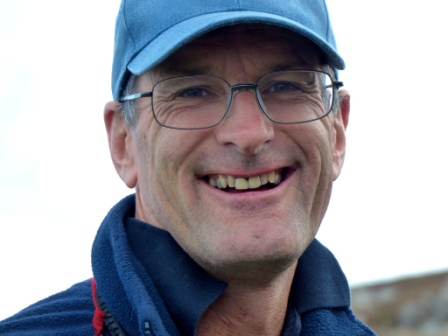 Known for my enthusiasm as a guide and naturalist, I've encountered a vast range of wildlife and built up my skills as a naturalist on cruise ships on nearly 230 cruises, from Antarctica to the Arctic, and temperate to tropical seas.
My time as a resident naturalist and guide in the challenging rainforests of Tambopata (SE Peru) was invaluable, greatly enhancing my naturalist skills.
Experiences in the Peruvian rainforest included a close encounter with a Jaguar, swimming with Piranha, finding a 7 m Anaconda, and becoming the host for a botfly. In other tropical locations around the World I've had close encounters with Chimpanzees, Mountain Gorillas, and Orang-utans, listened to the haunting calls of lemurs and gibbons, been enchanted by the amazing diversity of frogs, stunned by the incredible adaptations of insects, and captivated by the variety of birds.
Encounters at sea have included Blue Whales, breaching Right Whales, Orcas feeding on sea lions, inquisitive Humpback Whales, curious Leopard Seals, and swimming with dolphins and sharks.
With experience of life at sea for many years I've seen 5 species of turtle, 58 whales & dolphins, 25 other marine mammals, and, as a bird watcher, over two thirds of seabird species. I have also experienced the vast diversity of life in the underwater realm as a diver, from the UK to California, the Seychelles to the Caribbean, Thailand to the Red Sea, the Great Barrier Reef, Ningaloo reef, and the coral triangle from Sabah to the Solomons.
Relevant experience and training is becoming increasingly important for work on cruise ships and working in environmentally sensitive areas, with relevant qualifications and certifications. With my enthusiasm, wide-ranging and adaptable skills as a naturalist, sense of humour, and my gregarious nature, I work well as a wildlife guide. Read my referrals about my skills as a lecturer and wildlife guide, and check out the talks I have presented, from working on 'expedition' cruise ships, to schools and travel shows.
I've travelled to all the continents and my experiences as a naturalist includes:
Work as a ship naturalist on 'expedition' cruise ships with a focus on seabirds, cetaceans, seals, and other wildlife.
Locations I've experienced are many including Antarctica (Antarctic Peninsula, South Georgia and the Falklands), Greenland, the high Arctic including the NW Passage and Svalbard, the spectacular UK coastline, Norway, Iceland, the Faroes, the Tropical Atlantic (Canaries and the Cape Verdes to the coast of South America), the Indian Ocean (Madagascar, Mautritius, Reunion and the Seycelles), the Indo-Pacific (Indonesia, Malaysia, New Caledonia, New Guinea, Solomons and Vanuatu); New Zeland; Australia, including Tasmania and the remote Kimberley region.
Companies have included Noble Caldedonia, G-adventures,

Adventure Canada, and APT (Australian Pacific Tours).
Based on my experience in polar regions I have a Certificate of Competency from the PTGA (Polar Tourism Guides Association) as a Senior Polar Guide.
Experience at producing trip reports and expedition CDs.
Other expeditions I've been on as the ship's naturalist included sailing a yacht from the UK to South Africa and back on

Enterprise Neptune

and sailing from Hong Kong to Shanghai and back on a junk in the South China Seas on

The Marco Polo Voyage.
Leading some of the ultimate of whale watching tours with Discover the World to New England, California, Iceland and Gibraltar.
Looking for whales, dolphins and seabirds as a co-leader on Bay of Biscay tours with WildWings and WildOceans.
Assisting with whale watching surveys and a partner with the World Cetacean Alliance.
Behind the original concept of 'SEALIFE: A Complete Guide to the Marine Environment' and one of the contributors. Based on my experience at sea I worked closely with the artist, Marc Dando, to have illustrations that shows dolphins as seen from above -when they are bow riding.
Guide at Explorer's Inn Tambopata in the Peruvian Amazon in 1984 and 1985, and revisiting the area in 1997, 2005 and 2011. This has to be one of the most diverse places in the world and an invaluble experience as a guide in this challenging 'hidden realm'. I'm also a founder of TReeS - the Tambopata Reserve Society.
Looking at the ecotourism potential in the Gambia in the early 90's.
Running ecotourism workshops.
Leading a tour to Uganda for chimps and gorillas in conjunction with Noble Caledonia and Volcanoes Safaris.
Member of the 1982 UEA/ICBP St. Vincent Parrot expedition in the Caribbean.
Considerable experience at photographing wildlife.
Diving and free diving in the UK and abroad (New England, Bahamas, Caribbean, Mediterranean, Red Sea, Madagascar, Seychelles, Thailand, Indonesia, Sabah, Solomons, Vanuatu, Papua New Guinea, French Polynesia, Australia, New Zealand, Peru etc.) with an interest in marine life - and also swimming with dolphins, and sharks.
Studying amphibians in Europe including a study of the genetics and distribution of the Pool Frog across Europe and assistance with a amphibian survey in the Ukraine.
Leading a range of wildlife holiday walking tours throughout the UK for HF holidays, a company that has organised walking holidays in the UK, Europe and Worldwide for almost 100 years (it was originally set up by Thomas Arthur Leonard, the 'father' of the open air movement who also helped to set up the YHA).